Click on the thumbnail to open the full size 125dpi PDF page
Note: For personal, non-commercial use only.
Also available, for those of you who like Post-Apocalyptic imagery, here is a link to The Mutant Epoch RPG coloring book. It's a 20 page PDF with art by William McAusland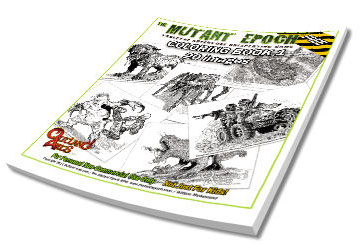 Copyright © 2019 William McAusland. All rights reserved.
Keywords: Free fantasy coloring pages by William McAusland, illustrator, kid's activities, kids coloring sheets, Kamloops, British Columbia, hobby, fun, games, wizard, sorcerer, sorceress, mage, magic user, castle, fort, fortress, keep, stronghold, downloadable, online, knight, warrior, champion, character, art, drawings, ink,