On a Budget?
Tight Deadline?
Check out
Fantasy Clip Inks published by
Outland Arts and illustrated by William McAusland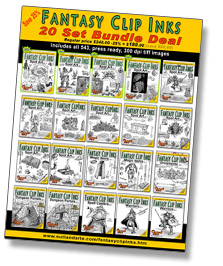 The Fantasy Clip Inks Bundle Deal
Save 25%
This collection contains 543
stock art images!
Regular price $240.00 -25%=$180.00 (save $60.00)
Learn more or Buy via Gumroad*
*Where you get the exact same image files, but, by selling direct, we earn 90%
or Get it through drivethrurpg.com right here!
---

$12.00
view at gumroad.com
or at RPGNow.com
or drivethrurpg.com

Spot Art set 12
by William McAusland
Demo PDF here
---

$12.00
view at gumroad.com
or buy here at RPGNow.com
or here at drivethrurpg.com
Spot Art set 11
by William McAusland
Demo PDF here
---

$12.00
view at gumroad.com
or buy here at RPGNow.com
or here at drivethrurpg.com
Spot Art set 10
by William McAusland
Demo PDF here
---

$12.00
view at gumroad.com
or buy here at RPGNow.com
or here at drivethrurpg.com
Spot Art set 9
by William McAusland
Demo PDF here
---

$12.00
view at gumroad.com
or buy here at RPGNow.com
or here at drivethrurpg.com
Spot Art set 8
by William McAusland
Demo PDF here
---

$12.00
view at gumroad.com
or buy here at RPGNow.com
or here at drivethrurpg.com
Spot Art set 7
by William McAusland
Demo PDF here
---

$12.00
view at gumroad.com
or buy here at RPGNow.com
or here at drivethrurpg.com
Spot Art set 6
by William McAusland
Demo PDF here
---

$12.00
view at gumroad.com
or buy here at RPGNow.com
or here at drivethrurpg.com
Spot Art set 5
by William McAusland
Demo PDF here
---

$12.00
view at gumroad.com
or buy here at RPGNow.com
or here at drivethrurpg.com
Spot Art set 4
by William McAusland
Demo PDF here
---

$12.00
view at gumroad.com
or buy here at RPGNow.com
or here at drivethrurpg.com
Spot Art set 3
by William McAusland
Demo PDF here
---

$12.00
view at gumroad.com
or buy here at RPGNow.com
or here at drivethrurpg.com
Spot Art set 2
by William McAusland
Demo PDF here
---

$12.00
view at gumroad.com
or buy here at RPGNow.com
or here at drivethrurpg.com
Spot Art set 1
by William McAusland
Demo PDF here
---

$12.00
view at gumroad.com
or buy here at RPGNow.com
or here at drivethrurpg.com
Ornaments set 1
by William McAusland
Demo PDF here
---

$12.00
view at gumroad.com
or buy here at RPGNow.com
or here at drivethrurpg.com

Magic Items set 1
by William McAusland
Demo PDF here
---

$12.00
view at gumroad.com
or buy here at RPGNow.com
or here at drivethrurpg.com
Magic Items set 2
by William McAusland
Demo PDF here
---

$12.00
view at gumroad.com
or buy here at RPGNow.com
or here at drivethrurpg.com
Dungeon Portals set 1
by William McAusland
Demo PDF here
---

$12.00
view at gumroad.com
or buy here at RPGNow.com
or here at drivethrurpg.com
Dungeon Portals set 2
by William McAusland
Demo PDF here
---

$12.00
view at gumroad.com
or buy here at RPGNow.com
or here at drivethrurpg.com
Warriors Set 1
by William McAusland
Demo PDF here
---

$12.00
view at gumroad.com
or buy here at RPGNow.com
or here at drivethrurpg.com
Warriors Set 2
by William McAusland
Demo PDF here
---

$12.00
view at gumroad.com
or buy here at RPGNow.com
or here at drivethrurpg.com
Spell Caster Set 1
by William McAusland
Demo PDF here
---